Project Name: Nike Merchandising
Type: Commercial
Location: Serena Williams Building at Nike HQ, Beaverton, Oregon
Components: Buzon Pedestals, I-beams, Grating Panels, Pavers
Another Buzon Iconic Project: In 2022 Nike expanded it world headquarters by opening its largest building, The Serena Williams Building. One of the design challenges was to create a large scale innovation center that would be harmonious with nature. Adding to that challenge was the fact the property was adjacent to a wetland. Designers and architects overcame that challenge and delivered a building and surrounding built environment as innovative as the brand itself.
Project Innovations
Improved Continuity
The building establishes links to the existing campus through restored wetlands, public plazas, and canyon-like roof-deck view corridors featuring raised terraces.
Improved Pedestrian Experience
Because the decking surfaces surrounding the buildings are elevated using Buzon pedestals, pedestrians can walk around the entire site outdoors and never encounter standing water or soggy areas, even during the rainy season.
Environmental Responsibility
The project achieved LEED Platinum status and is recognized as a Salmon Safe project. Along with FSC woods and other sustainable materials, the Buzon pedestals used in the project are 100% recyclable. Building rainwater is retained to flush toilets. Source pollution is minimized in part through 1000's of native plantings and resulting stormwater runoff is reclaimed by the surrounding wetlands.
Terraces Made of Buzon Pedestals with I-Beams
Components Needed: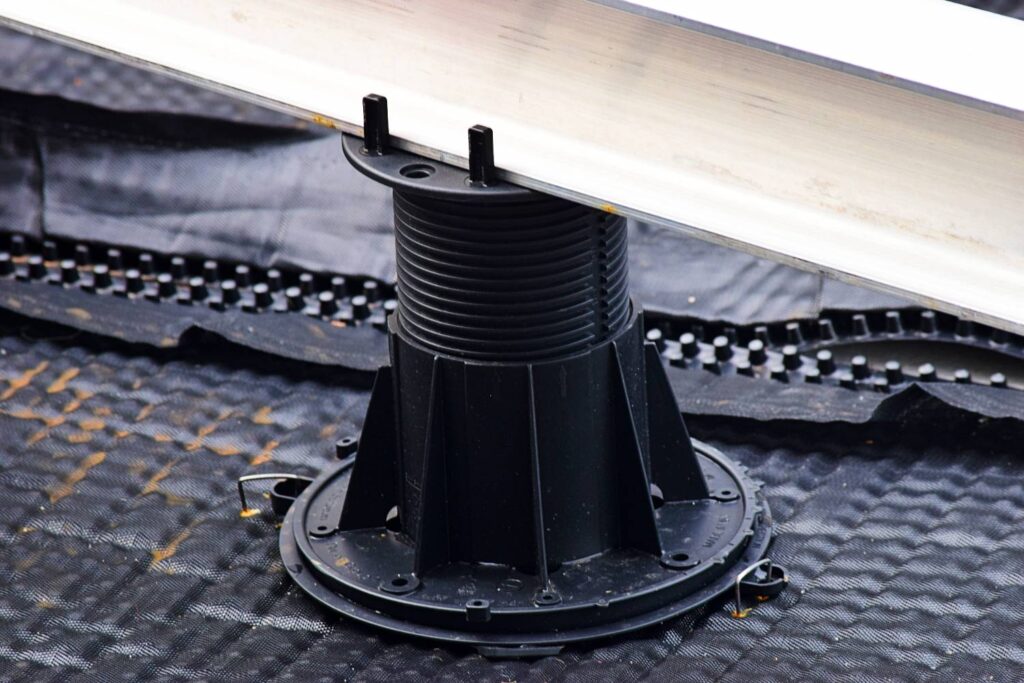 From Bottom: U-PH5, BC-Series Pedestal, Spacer Tabs, I-Beam
Supporting Athletic Excellence
Images shared from a tour of the facility reveal thoughtful design at every turn. But not all innovation and design is so easily seen.
Invisible Innovations
There may be a hidden material or construction method in a performance shoe that the athlete who wears it will never be aware of. Likewise, every innovator, athlete, and visitor entering the Serena Williams Building at Nike HQ will have walked over surfaces supported by Buzon pedestals. Though this hidden screwjack pedestal innovation will go unnoticed, Buzon Pedestals is pleased to support such an iconic building project and contribute toward Nike's mission to bring inspiration and innovation to every athlete in the world.