Buzon Pedestals at Four Seasons Resort
Another Buzon Iconic Project: Buzon pedestals are a hidden feature at the Four Seasons Resort in Kapolei, Hawaii. Buzon pedestals support the ipe board decking that covers each pool deck. These pool decks were part of an extensive landscape renovation that included two new pools, three new spas, three new pool decks, two new restaurant terraces and adjoining decks, two new spa gardens, a new event lawn, and a newly designed front entry porte cochere.
Type: Commercial Resort
Location: Kapolei, Hawaii
Components: Buzon Pedestals and Ipe Wood Decking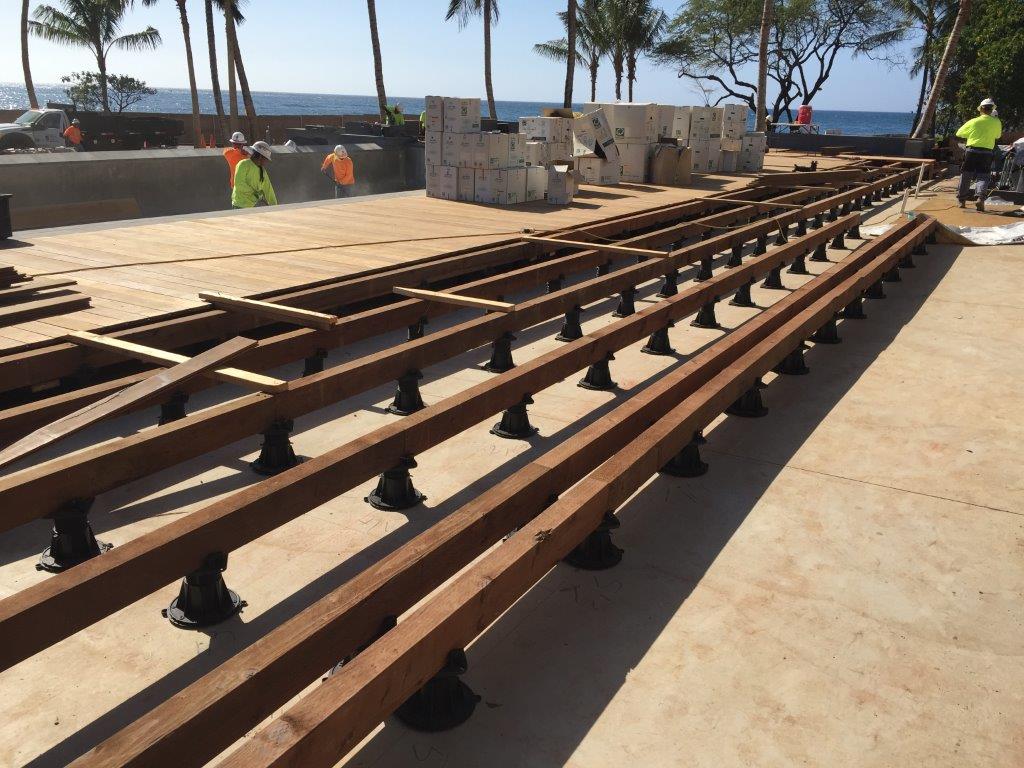 Making Resort Pool Decks With Buzon Pedestals
Components Needed:
BC-KIT-5 Joist Supports
Ipe Wood Board Decking
Hidden Fastener System
Project Collaborators:
Buzon USA West Provides:
Buzon USA West creates accurate project take-offs, including grid-pattern and pedestal quantities. The company produces color-coded CAD drawings displaying the location and height of each pedestal.
Project Takeoffs for Pool Decks
These project takeoffs reveal the pedestal planning details around joist requirements and ipe wood decking for each of the pool deck at the Four Seasons Resort.
VIDEO: Buzon BC-KIT 5 Joist Support
The BC-KIT-5 joist cradle conveniently attaches to the head of the BC range of pedestals. Its primary function is to securely fasten the joist to the pedestal, facilitating the smooth installation of timber or composite terraces.
Buzon Pedestals Reference Projects
The Four Seasons Resort in Kapolei, Hawaii is a Buzon USA West reference project. See other Buzon USA West reference projects.
Distributor for Buzon Pedestal International
Buzon USA West is the Western distributor for Buzon Pedestal International. We carry BC and PB series Buzon pedestals and accessories. We provide sales and technical support at every stage of your project.
Work with Buzon Pedestals
Are you involved in designing, specifying, or building a commercial or residential rooftop deck or terrace that requires Buzon pedestals? Then call on us to help at (503) 954-3336, email sales@buzonpedestals.com, or click.